Ah, camping! The fresh air in your lungs, the sun shining in your face, and the open fields filled with adventures to be had. I don't know about you, but there's something about all that that just makes my stomach growl furiously!
When camping, tasty, energizing, and easy to carry with snacks are favored to give a little savory energy boost. The only thing complicated about selecting snacks for your camping trip is that there just so many of them available! How would you know which one is best!? Rest easy, we've done the research for you and present you with the very best snacks for camping right here.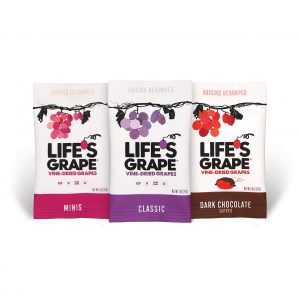 Life's Grape, these California grown vine-dried grapes are a great source of fiber, calories and energy when hiking so you don't have to carry around fresh fruit that can spoil! The Selma Pete grapes key characteristic is early ripening, which allows them to spend more time on the vine (not on the ground like most raisins are dried) to reach their peak flavor, nutrition and juiciness. The Life's Grape Mini Vine-Dried Grapes (12) 1 oz Snack Packs- $17.99 is the perfect camping snack to sneak into your backpack and snack on when you need that extra little boost of sugar on a long hot day hiking and seeking adventure in nature!
---