Try Life's Grape at Whole Foods and receive a 100% rebate. No spam, we promise!)
Limited time offer. Limit one per household. Offer expires 8/1/21. Must claim rebate by offer expiry date. Date printed on receipt must be within 14 days of signing up for this promotion. If you are experiencing any difficulties with signing up or redemptions, please contact our help desk at info@lifesgrape.com.
TASTE LIFE'S GRAPE DIFFERENCE
Life's Grape® vine-dried grapes are grown with love by the Gillespie family.
Our vine-dried grapes are a sweeter and plumper revamped raisin because unlike other raisins, they never touch the ground!
From our family's vineyards to your family's hands, Life's Grape's vine-dried grapes are grown with love. We purchased our first vineyard 35 years ago, and we've been raisin' delicious grapes ever since.
We make our snacks with real, whole fruit straight from our vineyards. Oh, and we treat our grapes like family, which means our snacks are always all-natural, non-GMO, and preservative-free.
Our family secret is a new grape varietal, the Selma Pete, that drys hanging on the vine. The warm California sun transforms our grapes into sweet and juicy treats that are perfect for snacking.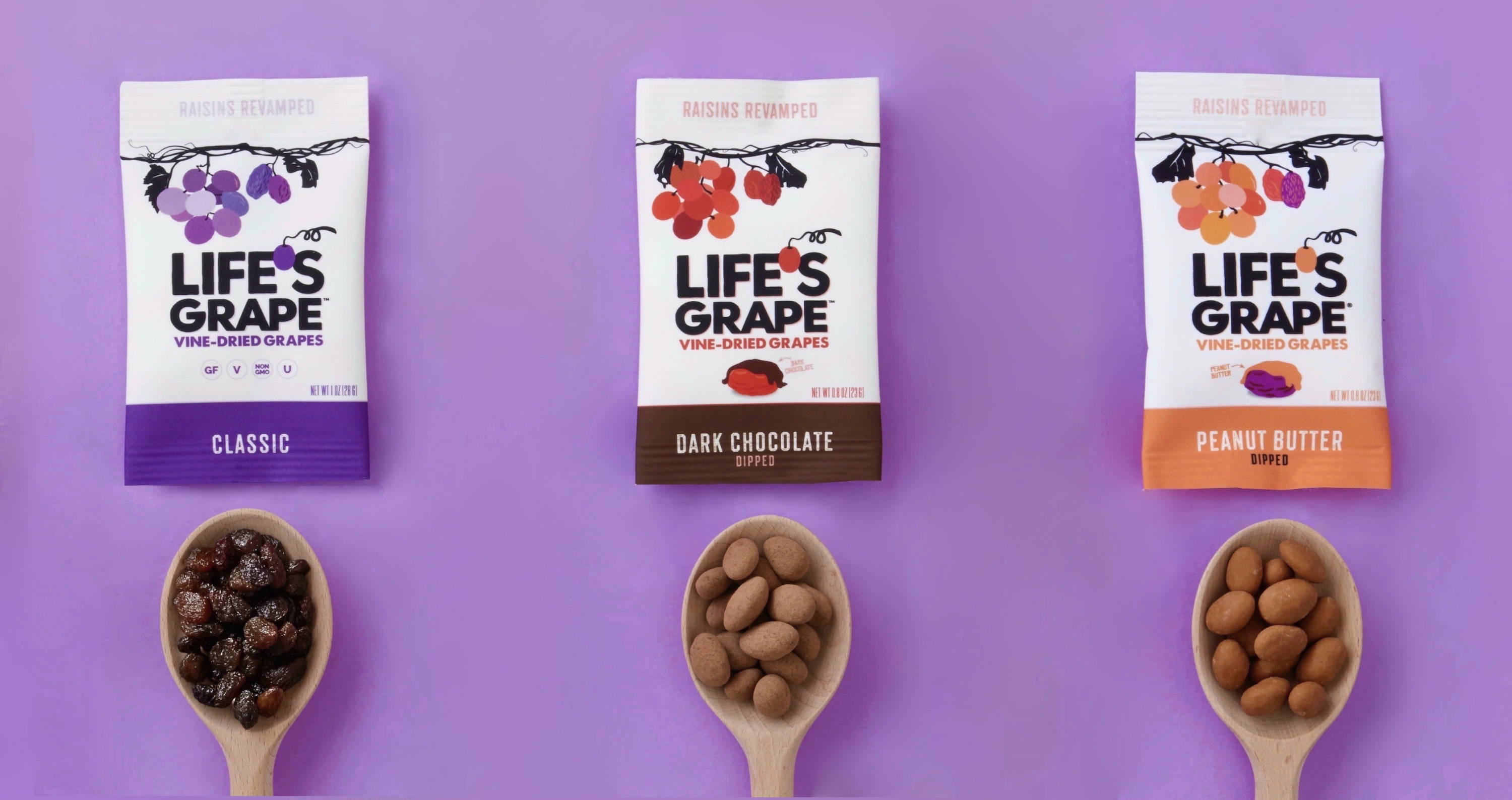 Dark Chocolate Dipped
We've taken our vine-dried Selma Pete grapes, drenched them in decadent dark chocolate, and dusted them with cocoa powder for a luxurious and indulgent treat. Decadent and elegant, you'll only find 100% whole fruit in these treats.
Peanut Butter Dipped
Our twist on the classic peanut butter and jelly sandwich, we took our tasty vine-dried grapes and dipped them in rich, creamy peanut butter for a nostalgic treat that will remind you of your childhood. Rich and sumptuous, these tasty treats are made with 100% whole fruit.
Enter your zipcode to find vine-dried grapes near you!
We are in the dried fruit aisle at:
HEARD IT THROUGH THE GRAPEVINE
"Meet your newest obsession: peanut butter-covered vine-dried grapes. Holy addictive, Batman. We could not put these down. In fact, we ate embarrassingly large amounts in an extremely short period of time. They're essentially peanut butter and jelly sandwiches, but in bite-sized pieces. Two very enthusiastic thumbs up."
Joey S. - Chowhound Magazine Writer
"I love every product from Life's Grape but I can't live without these Classic Vine Grapes. They're better than anything I can find in the supermarket. My life was empty and meaningless before I discovered this company and now I'm full of vim and vigor!"
- Steven M., Life's Grape enthusiast
"First, I am a chocolate raisin connoisseur and have the 20 extra pounds to prove it. Dark chocolate only, milk chocolate raisins are for Neanderthals. I can't remember the last time I purchased those mass produced ones in a yellow box. If you like chocolate raisins, buy those. If you LOVE chocolate raisins, buy these."
- M. Northup, Chocolate Raisin Connoisseur
"I was given the Life's Grape Dark Chocolate Dipped Vine-Dried Grapes to try... I was hesitant at first because they weren't like the usual chocolate covered raisins. These were actually far superior to any others I've ever had. A great tasting fruit surrounded by a luscious dark chocolate. I was able to eat less and feel satisfied and like I'd just had gourmet dessert."
"These are the best raisins ever! The only problem is that I probably can't eat any other raisins anymore! Other raisins just do not compare to these. I give these 5 out of 5 Yums!"
Want to keep up to date on new releases, promotions and current news? Leave your email below and we will be sure you're the first to know our exciting news!